Wallpaper today is not your grandma's wallpaper. It's now trendy to use wallpaper as a way to add style to your home in a way that's unique and pretty cool.
Add style to your plain white walls
Recently I helped a client find wallpaper for their downtown condo. The boring builder's white walls did nothing for this modern space. We looked through several wallpaper books and our final selection was quick and decisive because they just seemed perfect for the space; a zig-zag pattern in metallic soft gold for the bathroom and a wide horizontal stripe for the hallway and living room.  Once we selected the wallpaper, we matched a paint colour for the other walls that were going to be painted.
Wallpaper has been ordered, received and ready for installation!
Create a feature wall
In the living room, we decided to do a feature wall and chose the wall behind the sofa to be wallpapered.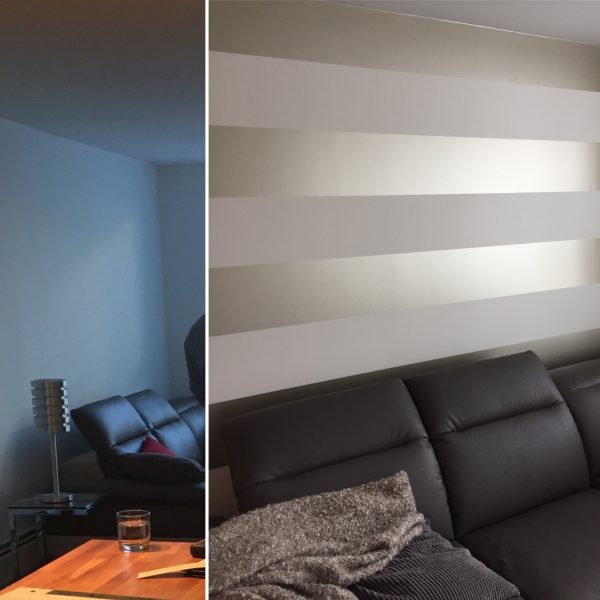 Define your spaces
In the bathroom, all the walls were wallpapered to give it a dose of "oomph".
The long wall in the hallway needed some drama which is exactly what the wide horizontal stripe wallpaper does to this space.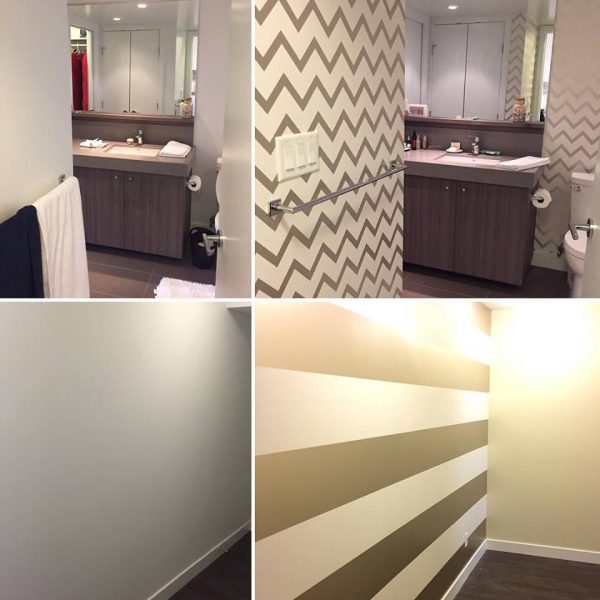 The client really liked how the wallpaper transformed the look and feel of the condo. The wallpaper defines the various areas in the small condo and personalized them.
What do you think? Are you looking to add some style to your condo? Check out our Instant Aesthetics e-design package where you hire us to help you do up one room in your home. It's that simple.
You can also check out my Instagram page for my #wallpaperwednesday posts.
Related links: