The following blog post is taken from the Decorators' and Designers Association of Canada (DDA) blog website which features decorating tips, how-to's and advice from experts who are accredited members of this association. This blog post features yours truly as one of the experts answering questions about the top trends in window coverings.
There are plenty of trends out there right now for people looking to spice up their windows. From textured sheers to roller shades, here are some of the top trends on the window treatment market right now.
Roller shades and screens
Roller shades, which are a straight piece of fabric attached to a roller that pulls it up and down, have come a long way from the boring shades and screens of the past.
"The industry has come up with trendier colours and patterns and made these window coverings affordable and less bulky-looking with improved function and operational hardware," says Nancy DeVries of Urban Aesthetics in North Vancouver.
Modernized sheers
DeVries says that sheer-looking shades, such as the Pirouette blind from Hunter Douglas, are big sellers right now. "Clients love the function of the sheer shade when the vanes are open for sun protection and daytime privacy," she says. "When the soft fabric folds are in the closed position, it gives the look of a roman shade and clients are attracted to the dual function of this type of shade."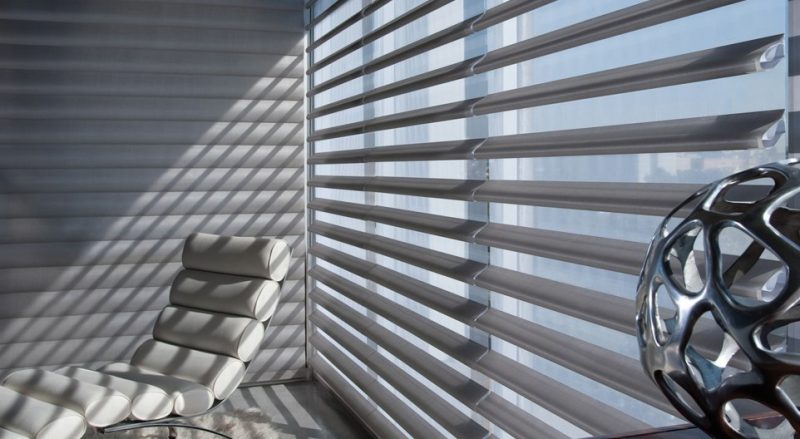 Ana Gomes of Personal Touch Interiors in Ottawa says she's seen sheers updated with interwoven materials and patterns, which creates an added texture and interest. "Embossed or printed patterns, with more colour choices, are also a trend right now," she says.
Green window coverings
Gomes says that she's found an increased focus on green design as more and more people are concerned about the chemicals found in traditional window shading and fabrics. "Some performance fabrics have gone green with anti-microbial, anti-fungal traits woven into the yarn," she says. "Another option is to have it done as a top spray, added after."
Other green trends in window coverings include linen and cotton fabrics and bamboo blinds.
Delicate detailing and plenty of patterns
Fancy details such as ribbon, beaded trim and luxury fabrics are also a big trend right now, says Gomes. Similarly, strong patterns are making their way into the market, with large-scale florals, bold stripes and graphic geometric designs creating some eye-catching options.
However, despite this move to flashy patterns, clean, sleek, crisp lines remain the preferred choice for most window treatments.
If you would like to know more about any of these top window covering trends, click here to contact Nancy.
Have you signed up for the Urban Aesthetics' newsletter where you can find out more about decorating and what's currently trending? Click here for the link to the UA homepage and enter your email in the box at the bottom of the page.