An important professional challenge of mine earlier this year was decorating and creating a furniture layout plan for a 398 square foot show suite inside a new development in Surrey, BC.  I was hired by the developer's marketing company to decorate and set up a display suite to show potential buyers how the unit could be furnished.  
My goal in furnishing the 398 sq ft display suite was to show potential buyers how they could have a complete living space within a single 398 square foot room.

My reward at the end of that exciting and challenging process was winning the gold award in the "Homestaging" category of the Canadian Decorators' Association's

(

CDECA

) now called DDA, annual Decorating and Design Competition.  
DDA is a national organization of accredited interior decorators and designers of which I have been a member of since 2008.
The Decorating and Design Competition's awards luncheon was held in Toronto on April 14, 2014. I was able to fly to Toronto to attend the ceremony and receive my gold award from a representative of the "Homestaging" category's sponsor, Speers Flooring.
The design process
The design process took about three months to plan. It involved connecting with local vendors, sourcing furniture and accessories, and then figuring out the layout for the furniture. I needed to show the potential future homeowners that they could have their bedroom, living space, dining table, workspace and kitchen all in one room.  No "small" task!
I sourced the furniture, rug, and accessories at Ikea, Crate and Barrel, and CB2.  The awesome multi-functional wall bed and drop down table combination is made by Instant Bedrooms Manufacturing in Yaletown. The wallpaper behind the apartment size sofa was sourced through a local to-the-trade showroom.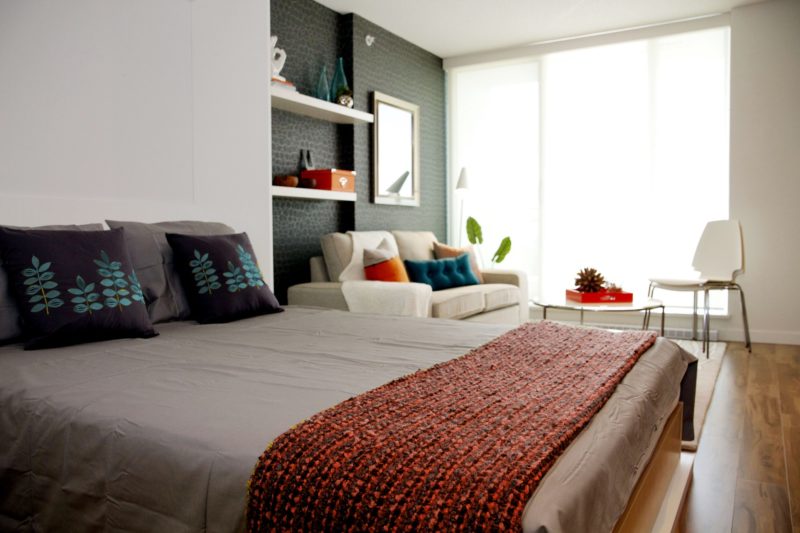 My style idea for the suite involved an overall neutral palette of white and grey with trendy shades of turquoise and orange as accent colours. The geometric pattern wallpaper in a darker grey colour helps to define the living area and is a great backdrop for the neutral coloured apartment sized sofa from IKEA.  I'm proud to say this small space was furnished and styled within the real estate developer's budget, which was under $12,000.
Here's a before and after
I'm very excited to have won this award as all the winners in the competition were selected by my peers in the organization and I'm proud of my achievement in a profession that I love. I'm also excited to be able to use my experience winning this award to highlight that people can have affordable and stylish design, including hiring a professional such as myself, without having to pay a fortune.
Style doesn't have to break the bank to be good!
If you would like to know more about this project or if you would like to create a new look for a room in your home, connect with me here.
Related posts:
Finding Your Decorating Starting Line
'Couchsourcing': The Search For the Perfect Sofa Explained