Last September I wrote a blog post about my modern kitchen renovation. You can read about it here if you missed it. I wanted to share the photos of the laundry room renovation in a separate blog post so that you would really appreciate the before and after.
What started out as a small 6 ft x 5 ft box of a laundry room has now become a side entry, a room for storage cabinets and a laundry room. The room was so small you couldn't even take a picture of it so the only "before" photo I have is of the room in the framing stage. We installed a new entry door into the laundry room and the other entry point is from the garage. You walk into the kitchen from the laundry room.
My husband and I were having difficulty trying to figure out the cabinet layout and where the washer and dryer should go. So we taped out the layout options on our garage floor. Doing it this way really helped us to "walk around" the space and decide on the best layout design option.
Once that was decided, we could install the pot lights as well as the tall cabinet box that contains the tankless water heater. The plumber was coming and the cabinet needed to be in place before the unit could be installed.
We carried the same flooring (Kentwood Brushed Acacia Natural) from the kitchen through into the laundry room, and eventually it will also be installed in the rest of the living area of our home. Once the flooring was complete, then the cabinet boxes could be installed.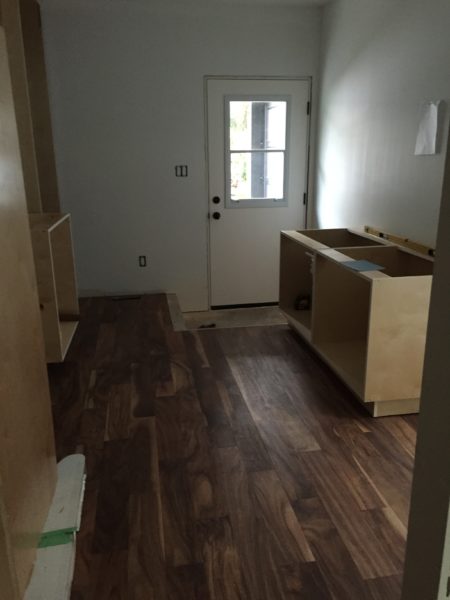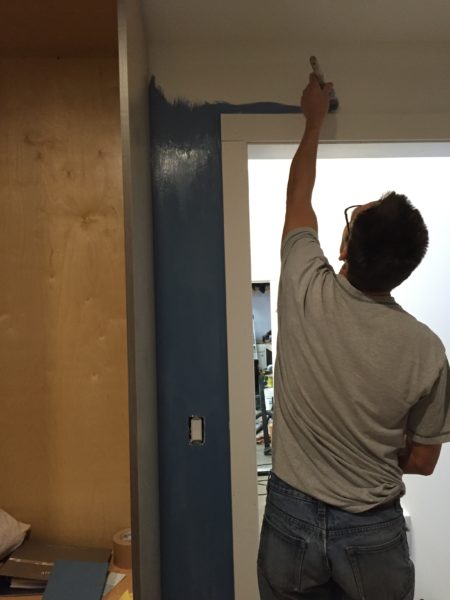 We didn't have a chance to paint the walls before the cabinet boxes went in (it's all about the timing, isn't it?), but we still had to hang the side panels of the cabinets so we could paint up close to the boxes. The cabinet boxes were then finished with the painted white (BM Ice Mist  OC-67) cabinet panels.
And finally here is the end result!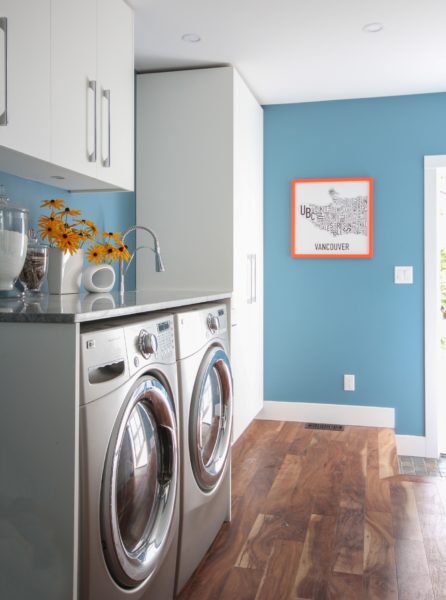 We are so happy with this transformation and it makes doing laundry just a little bit more enjoyable.
Are you thinking about a laundry room renovation for your home? If you would like some help with selecting the finishes for your renovation or new build, I would be happy to help. You can contact me through my contact page.