How to add low cost style to your Dining room
Even though it's cold outside, we can pass away the time until spring's arrival. So book a few more dinner parties with your friends and enjoy an evening in your dining room. Here are a few budget friendly suggestions to add low cost style to your dining room:
1) Style what's under your feet.  An area carpet can add the right touch and add warmth your feet while you enjoy your dinner. Remember the carpet should extend 18-24" beyond your table to ensure all chair legs will be on the carpet while in use.
2) Colour drama. Create a dramatic space with a warm, rich colour such as Benjamin Moore's Etruscan AF 355. Not only can it create an intimate look, but it will complement your wood furniture. Rich colours just seem to glow when accent lit by candlelight.
3) Dazzle with the right light fixture.  Make this focal point of your room something special. One of the latest styles is the drum shade light fixture or a pleated fabric rectangular shade over a long rectangular table. A way to update your existing chandelier is to add a mesh drum shade overtop of your fixture.  Remember the bottom of the chandelier should be 30"-34" above your table surface. Use dimmers for total mood control.
4) Refresh your fabrics.  It only takes a few yards of fabric to recover the dining chair seats so it's not an expensive splurge to update. Look for remnant sales at fabric stores to save a bundle.  It's a great way to go bold!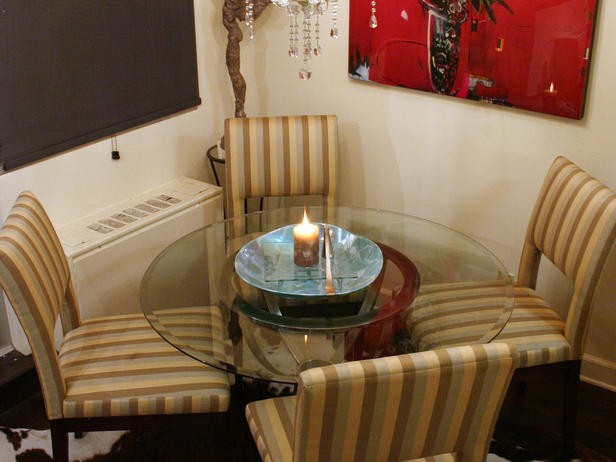 5) Dress up your windows. There are so many low cost ways to dress up your windows.  Hang premade curtain panels from a swing arm curtain rod.  The fabric can be in a multi coloured stripe satin or silk lined panels. Drapes not only help with drafty windows, they also soften sounds in a hard wood furniture room.
If you are interested in styling your dining room, contact Nancy to book your in home consultation.