There's no such thing as a good time for a burst pipe or any other unexpected disastrous mishap in your home, but when you hire a professional decorator to help and assist in the recovery process, you can save time and stress! Let me give you an example:
Recently, a long-time client of mine woke up to flooding caused by a burst water pipe in an upstairs guest room. Although much of the damage was confined to the guest room, water also flooded into the rooms below, affecting family room, living room, dining room and kitchen.
I have worked with this client since 2005, assisting her to choose paint colours for her whole home, and select and purchase custom furniture, window treatments, light fixtures and other décor accents. Our professional relationship proved very useful during this stressful event.
Below is the redecorated family room with new silver drapery hardware from JF Fabrics, drapery panels made with fabric from Maxwell Fabrics, and new wall colour from Benjamin Moore Paints CSP 830 Peaceful Garden.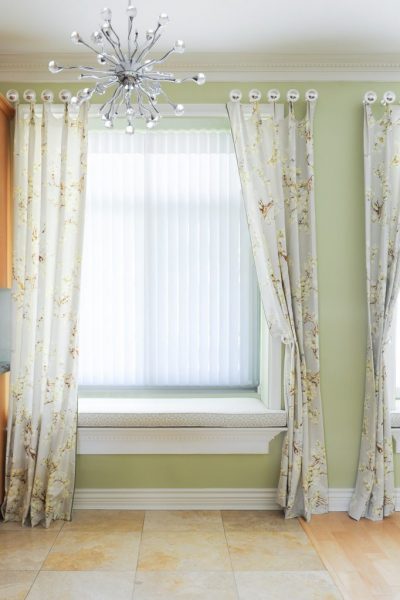 Insurance and restoration companies often aren't staffed with decorators who are experts in design, fabric, paint, and how to oversee the making of custom pieces that reflect a homeowner's style. My client suggested to her restoration company that they bring me on board because she knew I could make sure that the items that needed to be replaced would be of the same quality as those we had originally installed. She also knew I had her information on hand, had her style in mind, and could supply the original purchase paperwork to make this process faster and smoother.
For example, years earlier we had chosen a beautiful light fixture with a lovely amber shade, and my client wanted to replace it when it was ruined in the flood. I still had the product code and contacted the light company to reorder the same style and the same colour. The salesperson confirmed the product via catalog photo and model number. I was assured the same fixture was on its way.
However, after almost six weeks of waiting, the fixture arrived and the "amber" shade was actually a reddish colour! Also, the size of the crystals was different (see photo below – original crystals on the right). The numbers matched, but the product had been revised and the original amber colour was no longer available.
I handled the situation by returning the fixture and taking my client shopping to find a new light that she loves.
Situations such as the light fixture can be hard to for a homeowner to handle on their own. It can be difficult and stressful to deal with wholesale companies or manufacturers when something goes wrong. I can handle the stress and deal with the bumps in the road for the homeowner.
I have professional relationships with furniture and design companies and their salespeople. I'll visit the workrooms, check on the fabric, re-order and re-do things on behalf of my client. I can help speed the restoration and redecoration process so that a client isn't living with dust and grime for what can feel like forever. It comes down to having a history of experience with my clients and connections in the decorating business that representatives from a restoration or insurance company just won't have.
Working with the same professional decorator over time also assures that when something is redesigned, due to a change in preference or an unexpected problem such as a burst pipe, it's easy to keep elements of the previous design and refresh other parts, such as paint colours or window treatments, to update a room. We were able to do that in the guest bedroom. Originally the walls were yellow and had no drapery panels. Now the walls are BM AF 515 Exhale (ironic don't you think?) and match the drapery panels that were moved there from the master bedroom.
When designs are classic and true to the style of the home, updating here and there is much simpler. And it's exciting for me as a decorator to see how a client's style can change over time.
If mishap does happen, be sure you know your insurance contacts, and consider hiring a professional like myself to save you time and stress in the recovery period.
I wish you a happy and prosperous 2015, and may all your renovations be planned!