With technology and the accessibility of mobile devices, the selection of information that is available through apps is overwhelming, but also very exciting. App, a short form for "application", typically refers to software used on a smartphone or mobile device such as the Android, iPhone, iPad or BlackBerry.
And in the vast world of apps, there are countless categories and options available. So I thought I would give you a short description of some design apps for your mobile devices that will fully digitize your honey-do list. And these apps might just provide the incentive your gadget-loving partner could use to tackle that list!
Color Capture Benjamin Moore – Free
I'm going to start off this list with one of my favourites — even though it does have the potential to put me out of a job!
This iPhone/iPad app gives you the ability to match up colours from anything that you can snap a photo of. Simply take a picture with your device within this app and it will create a colour palette from Benjamin Moore paint colours. In the image below, you can see the photo I took of the Joan Miró print that is in my office, along with some perfect colour matches that were selected for it.
Home Depot – Free
When it comes to finding what you need, the Home Depot app will help you locate the items you need at a store nearby. So now instead of asking someone in the orange apron, you can just ask your mobile device. Too bad this app can't mix up your can of paint.
I.D. Wood  – $4.99
This is perfect for those who work with wood in various applications. The app will help you identify 200 different wood species (like an wood identification book would have) with full screen photos and detailed description of the uses and look of the wood, all on your smartphone. It also gives you information such as wood origin, hardness, durability and common uses.
Houzz Interior Design Ideas — Free
I love this website! While I use it for my own inspiration, it also allows me to create digital ideabooks that I can share with my clients who are looking for photos that will help bring their ideas to life. With over 1,000,000 high-quality interior design images, Houzz is a one-stop shop for design inspiration. Here's the link to my Houzz ideabook.
Home Improvement Calcs — $1.99
This app has over 115 calculations and unit conversions that you can use for any sort of do-it-yourself home improvements. For example, it will help you calculate the amount of materials that you need to frame a house, insulate your attic, wallpaper an accent wall in your bedroom or build a straight staircase. And more! It's the perfect thing for the weekend warrior in your life.
MagicPlan — Free
The MagicPlan app measures your room just by you taking photos of that room. You can adjust and edit the plans and the measurements can be in metres or feet. You can save your layouts and email them to yourself for your records. It takes a little time to learn how to use, but for the price — free — it's well worth the time.
Sketch Arm – 3D Closet Designer — Free
Sketch Arm is a tool that lets you create a fully customized closet — every organized person's dream come true! You can create compartments for your hanging items, organize your shoes and add accessories. It did take me some time to figure out how to organize the closet, but after looking at photos of other closet designs, I was able to design my dream closet.
Below is a photo of my first attempt. What features do you want in your dream closet?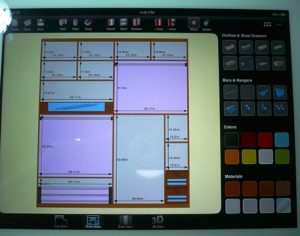 iHandy Level — Free
And now that you've designed your latest DIY project with your home design apps, this level app will make sure you start your home project on the level.
In addition to these apps, there are countless apps from furniture companies that feature catalogues of their collections such as  Restoration Hardware, Ikea, Norwalk Furniture, Design Within Reach, Bo Concept, Mitchell Gold + Bob Williams, just to name a few.
I'd love to hear from you what apps you like to use, whether they're tools you use every day, or fun apps that help you dream. Share your favourites by leaving a comment below.