Back in the fall of last year, I received a call from a new client (a referral from a past client – the best compliment!) who was looking for help with decorating the spare bedroom with custom drapes and wall paint colour to become a nursery for her yet-to-be-born baby. How exciting!
We started with looking at her existing furniture and area rug to see what she thought she would keep in the room and what she should remove. Loveseat – remove; desk – remove; chair – remove; area rug – keep; bookcase – keep. As it was a white painted bookcase, we knew we could work with that. From this point, she would purchase the nursery furniture that would coordinate with the style of the bookcase.
That left the area rug as our jumping off palette for colour and pattern design style.
Wall paint colour
We started looking at paint colours to see what colours she liked with the rug and we settled on a fresh green Benjamin Moore's AF 455 Croquet. Since we still needed to select the fabric for the drapery, this was just a tentative colour. I always suggest that the final wall colour be chosen after you have selected all of other materials with colour and pattern on them. It's easier to change the paint colour than it is to find the right fabric or bedding to match one particular colour.
 Fabrics for custom drapes
Our next consultation was to look at fabrics for the drapes. I brought over two bags of fabric books and we looked at all the fabrics, bookmarking the ones that we liked on the first flip through. Once we went through all the books, we reviewed our bookmarked options and narrowed down our preferences.
Next, I ordered larger fabric samples so we could see the individual swatches and then review our choices again. However, once the samples arrived a few days later, we still felt like we were missing our statement fabric.
The client went to various fabric stores and found a few options, but again, nothing was really speaking to her. We then met up at Fabricland in Richmond and went through what felt like every bolt of fabric only to come up with an option that was a sample of a fabric that needed to be ordered. When we asked for the information and a sample, we found out that it had just been discontinued! How disappointing!
A week or so later, I was at a "to-the-trade" furniture and fabric showroom to see a new furniture line that they were showcasing. While I was waiting to speak with the visiting furniture sales rep,  I thought I would ask the showroom staff to show me some fabrics that might work for my client. In about 10 minutes, we had found the fabric that I thought would be perfect! I got a sample, snapped a photo of it and emailed it to the client.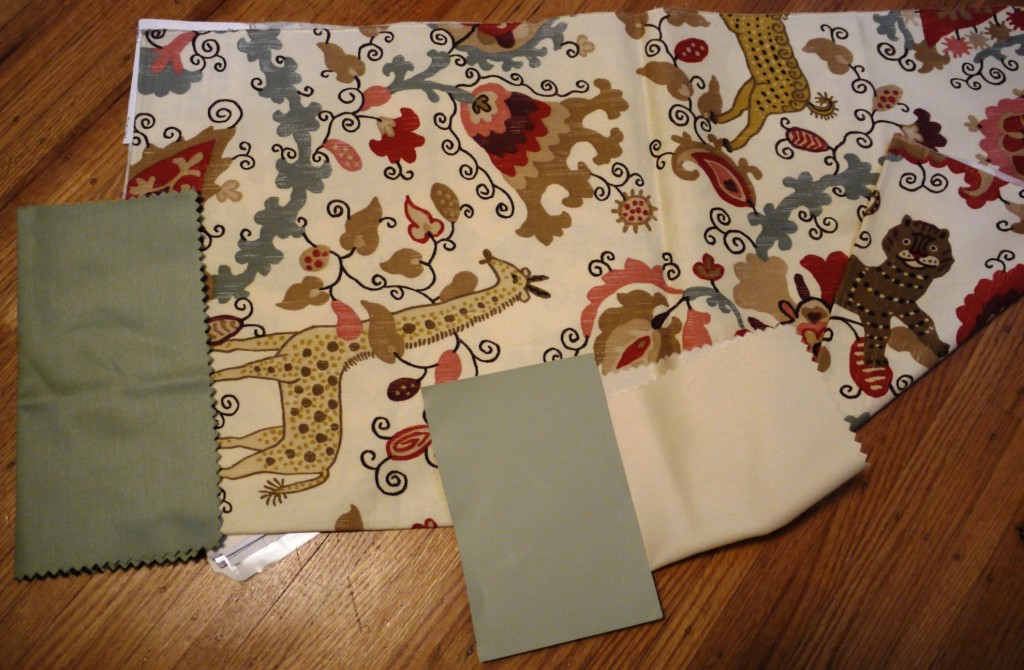 She instantly loved it! I then found coordinating solid coloured fabrics that we wanted to use as banding and we finalized our decision.
Here is the "Before" photo of the window: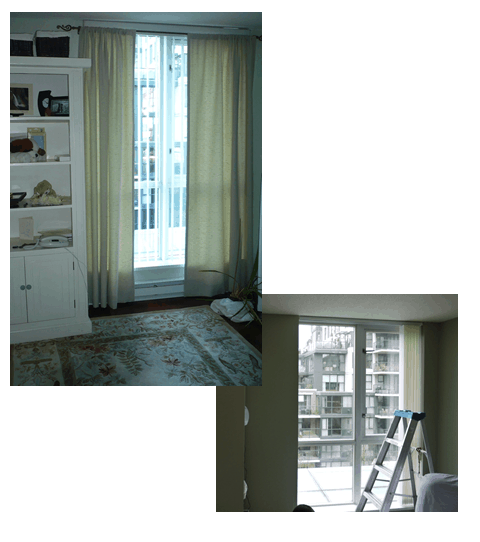 And here are the curtains on the area carpet, waiting for the rod to be installed:
  And here are the curtains installed:
Custom baseboard heater cover
Underneath the window was a baseboard heater, so for safety reasons we couldn't have the length of the drapes go to the floor and rest on the heater. The only option was for the bottom of the curtains to go to line up with the bottom of the window ledge, which in the end made the window look like it was wearing a dress that was too short. This look really bothered me, so I mentioned to the client that I would like to come up with a design for a baseboard cover that would the cover the heater and match the width of the curtain panels. Instead of having a wooden cover made — again not a safe choice when covering a heater — I found the company Arsco Manufacturing in Cincinnati, Ohio that manufactures steel baseboard covers. I immediately called them to see if they would ship to Canada, and was so excited to know that they could — plus they would be able to have it made in about 2.5 weeks. We were working with a "deadline" after all! My issues were solved and the end result is fantastic.
 Photos by Nancy DeVries
Is there a room in your home that needs a custom touch?
Related posts:
A Fresh Update for a Client's Master Bedroom
7 Tips to personalize your bathroom
If you have a room in your home that needs window coverings and are feeling overwhelmed with the multitude of choices, consider hiring a professional to help you with your planning and design.
Contact me here for my fee schedule and design services.
Republishing this article in full or in part is a violation of copyright law. © 2008-2017, all rights reserved.