As a certified window covering dealer for over 15 years, I get asked to help find the right window covering for many types of specialty-shaped windows. And I will be the first to say that I can find the perfect window covering because I have a very talented and skilled window covering installer backing me up. His knowledge and experience complement my product knowledge and design aesthetic and together we measure (sometimes re-measure) to ensure a perfect end result for the client.
That experience led us to be involved with a colleague's client who needed to replace the blinds on their 3 angled windows.
Question: I have 3 angle-shaped windows and I need a window treatment for them. What type of blinds can fit these windows without blocking all the light?
Answer:  Blinds for angled windows are not items you can buy off the shelf at your local hardware or home decor store. They need to be custom-made from a template that is sent to the manufacturer. An experienced window coverings installer would make the template and install the custom-made blind.
There are a surprising number of custom window treatments for your angled windows. Here are my top five specialty shaped blinds for angled windows:
1. Woven wood shades
Woven wood shades are made from natural grasses and reeds which add a unique natural style to your windows. Made to order for a perfect fit for the rectangle and angled-shaped windows. On a specialty angle-shaped window, they will only raise up to the bottom point of the angle. The angled part will be covered with an extra-long valance.
2. Roman Shades
Roman shade blinds are a classic style of window covering. The soft fabric fold fabrics are available in a wide range of patterns, textures, and colours. The fabric can be lined to be light filtering or blackout. In an angle-shaped window, they would be made as a stationary covering.  The same would be true for other specialty shaped blinds such as hexagon, octagon, oval and arch.
3. Shutters
Polyvinyl or wood shutters are a perfect fit for triangle windows.  Durable louvers move individually inside the custom built frame, offering the most custom light control of any of the specialty shaped window treatment options. If the louvers are made stationary because of the size of the window, they would be placed in an open or closed position. Shutters can be custom built for most specialty shaped windows.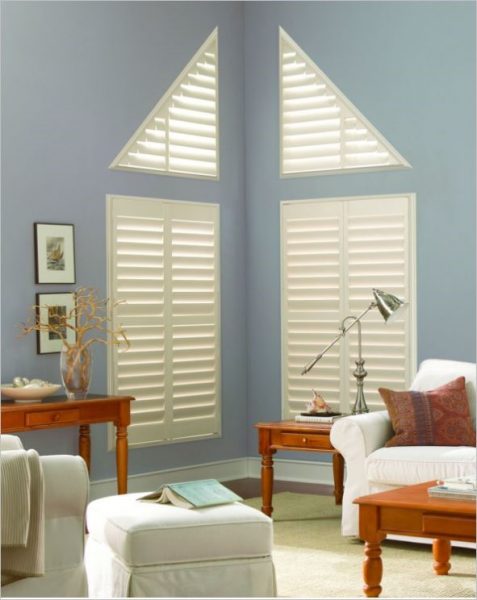 4. Cellular Shades
Cellular shades made for angled windows can be stand-alone stationary shades or mounted over any rectangular shade.  They are lightweight and do not have a large headrail or bottom rail.
They are energy efficient because the fabric is a honeycomb shape. This traps the air coming through the window, which insulates the room from outdoor heat and cold air. The honeycomb fabric can be light-filtering or opaque. The latter is typically preferable for sleeping quarters and media rooms. In the photo below, another client chose this type of blind for their large specialty-shaped windows because they needed sun protection without blocking too much of their view and daylight.
5. Sheer horizontal shades
Different manufacturers will have different design styles for this product in a specialty shape window. One manufacturer will have only a bottom rail and clear clips holding the fabric at the top of the window. This option is preferred by those who do not want raised trim around their window frames.
Another manufacturer builds a custom shutter frame, inserting the sheer fabric inside. You can choose to have the fabric vanes in an open or closed position.
This is what the client who asked the above question decided to go with.
A template is made for the manufacturer to ensure a picture-perfect fit.
The end result. Sheer shades in a custom-built frame, providing privacy and light control for the client's over-height angled windows.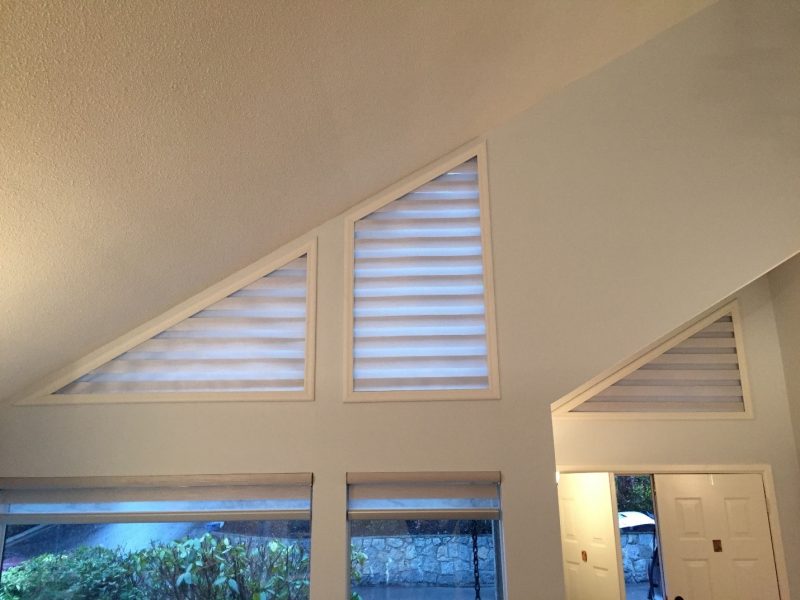 If you live in the Vancouver, BC area and have a window that is not a standard size window and you would like to learn more about custom window coverings, call or email Nancy to find out what your options are.
Here are the links to the window covering manufacturers that I use:
To view more window covering options, check out the Urban Aesthetics Hunter Douglas website